Hi Dell,
The problem might be with AudioLabel; although, we have other customers printing directly on the disc using the Canon Pixma MG5450. I wanted to double check everything, so I downloaded and installed the latest print driver for MG5450 on a Windows XP computer. I also installed the trial version of AudioLabel 5.00 Build 7.
The print driver was downloaded from the following link:
http://www.canon.co.uk/Support/Consumer_Products/products/Fax__Multifunctionals/InkJet/PIXMA_MG_series/PIXMA_MG5450.aspx
I deleted all the other printer drivers on the Windows XP computer, and only installed the Canon MG5450 print driver (as shown below).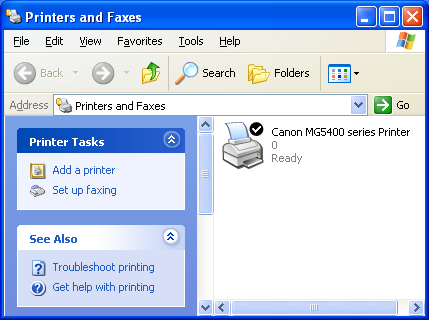 I was able to start AudioLabel, open the
Print Dialog
, and select the MG5450 printer (without the "Printers Offline" message).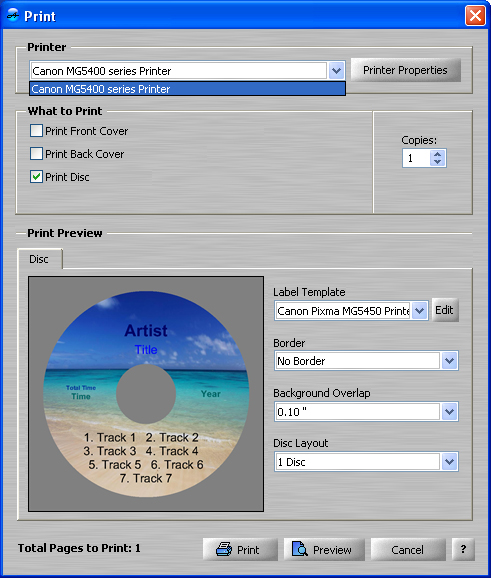 If there was a problem with MG5450 print driver, AudioLabel should still be able to read other print drivers. Do you have any other print drivers installed? If not, could you install another print driver and see if AudioLabel recognizes it? Windows has options to install pre-loaded print drivers (from Epson, HP, Canon, etc.) in the
Printers & Faxes
section. Please note that AudioLabel will need to be closed and opened after any changes to the print drivers.
A few more questions:
1. When you see the MG5450 driver listed in the Windows
Printers & Faxes
section, is the printer status
Offline
or
Ready
?
2. Do have any anti-virus or security software that might affect this?
3. Are you logged into Windows with a normal account (administrative privileges), or a Guest account?