Image Folder Dialog
AudioLabel CD/DVD Cover Software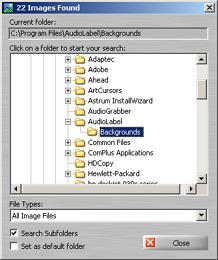 This dialog is displayed when the
Image Folder
button is pressed on the
Image Toolbar
. The Image Folder dialog is used to search your computer for existing images. Simply click on a folder to start your search. All of the images will be displayed as thumbnails on the Image Toolbar.
File Types:
The option allows you to filter the search by specific file types.
Search Subfolders:
When this box is checked, the search will include all of the folders below the selected folder. This is very useful for searching an entire drive.
Set as default folder:
When this box is checked, the currently selected folder is set as the default folder. The default folder is displayed each time you start the AudioLabel DVD Cover software.