Change Label Template Dialog




Selecting CD Label Templates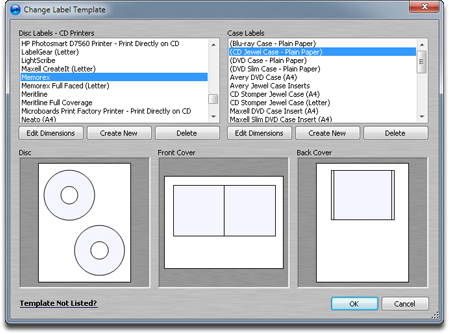 This dialog is displayed when the Change Label Template option is selected from the Layout Menu or Properties Toolbar. You can select different CD, DVD, Blu-ray, and LightScribe templates for the disc and case label. After clicking the OK button, all of the label designs in the current project will be moved and sized to fit within the new template dimensions (including the images and text).

Complete List of CD, DVD, and Blu-ray Label Templates

Edit Dimensions: This button opens the Edit Dimensions dialog and allows you to adjust the dimensions of the currently selected label template. This can be very useful if your printer does not align correctly with the template.

Create New: This button opens the Edit Dimensions dialog and is used to create a new custom template.

Delete: The delete button is used to permanently delete the currently selected template (the label design itself is not deleted).

Template Not Listed?: If your template is not listed, please see the section on Selecting a Disc or Case Template.
Download the
AudioLabel Trial Version
Includes free unlimited
printing for 15 days.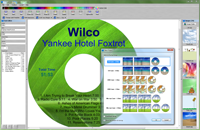 Compatible with:
Windows 10
Windows 8.1
Windows 8
Windows 7
Windows Vista
Windows XP

Version:
6.0 Build 6
File Size:
7.30 MB
Release Date:
May 12, 2015