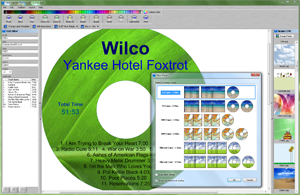 AudioLabel CD Printing Software
AudioLabel Printing Software helps design and create custom labels with support for printing directly on CD, DVD, and Blu-ray discs. The software is compatible with most
Direct to Disc
printers including Epson, Cannon, and HP Hewlett Packard. There are also more than 200 pre-defined templates for printing paper case labels, covers, and inserts.
AudioLabel CD Printing Software - Free Trial

Windows 10,

Windows 8.1,




Windows 8,

Windows 7,

Vista, XP

File Size:
7.30 MB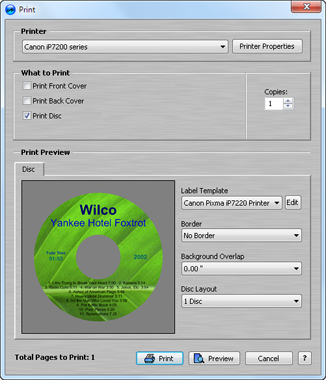 Print Dialog
Currently, there are many printers on the market that can print directly on discs without using label paper or sticker labels. Direct disc printing has a major cost advantage since you don't have buy labels separately. Other advantages include a faster one-step printing process that creates a thinner, more durable label that won't peal or wrinkle over time.
If your printer has a 'Direct to Disc' feature then it likely came with a plastic disc tray for loading inkjet printable discs. Inkjet printable discs are available in CD, DVD, and Blu-ray formats and have a surface coating that absorbs ink when printed (just like paper). Most inkjet printable discs have a white matte surface finish and are suitable for printing high quality images and photographs. Inkjet disc technology has improved over the years and there are now waterproof printable discs (by Taiyo Yuden) available in white matte or a silver glossy finish. The silver finish discs produce a very unique metallic look when printed.
Aside from printable discs, it's important to have good software for designing and printing labels. The AudioLabel software offers a flexible solution for printing discs, cases, and inserts. The image on the right is the AudioLabel
Print Dialog
which helps you adjust the printer settings and alignment. The settings for printing on paper labels are different than the settings for printing directly on a disc. Therefore, AudioLabel stores these settings separately in the Printer Properties Dialog (shown below).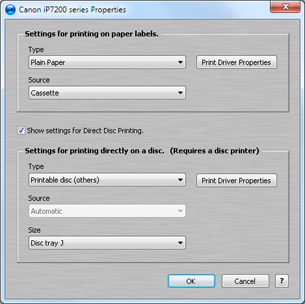 Printer Properties Dialog
The Printer Properties Dialog (on the left) is displayed by clicking the 'Printer Properties' button. From here you can set basic printer properties or go directly to the advanced driver settings. For direct disc printing to work, it's important that the driver "Type", "Source", and "Size" options are set correctly. If you're unsure of these settings please refer to your printer manual, or check the AudioLabel
Forum
. The last used printer settings are remembered each time you start AudioLabel, so you really only have to set this once.
Before printing your first disc, it's recommended that you run a test on a scrap disc in case the alignment is off. For the best alignment, print out a blank white disc design (with no pictures, text, or color), and make sure the
Border
option is turned on. This will print a black border exactly where the edges of the disc are. If the print alignment is off, you can adjust the template dimensions in the
Edit Dimensions Dialog
. The dimensions of the disc inner diameter (or center hole) usually need to be adjusted since the surface area of an inkjet printable disc varies by brand/model.