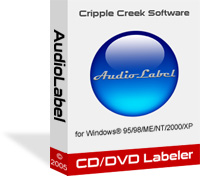 Download the Free 15 Day Trial
for Windows 8 - Windows 7 - Vista - 2003 - XP - 2000






Frequently Asked Questions:



1. I need to install AudioLabel again. How can I download it?


We have an automated system which can immediately email the download link to the registered version of AudioLabel. Please click here.



2. When I print my cd cover it is not to scale.


Make sure you install the latest driver for your printer. You should be able to find the current driver on the manufacturer's website. If the correct driver has been installed, the printed cd cover should have the following dimensions: Back Cover 5.91"x4.65", Front Cover (folded) 9.52"x4.76", Front Cover 4.76"x4.76". This issue was specifically noticed on a Lexmark Z-43 printer.



3. What is Freedb?


Freedb is an enormous database on the internet that contains album information (artist, title, track names, year, and genre). This information is submitted by individuals all over the world, and grows rapidly every day. There are many audio programs that allow users to submit this data to Freedb. AudioLabel cd label software can easily retrieve this album information and fill out the label for you.

Freedb works by reading the table of contents from the CD. Based on the number of tracks and track times, a unique number is generated which is called the Disc ID. The Disc ID is then used to search the Freedb database. It is extremely rare that two different albums will have the same number of tracks, with the same track times, in the same order.

Since the search of the database is based on the number of tracks and track times, this function will also work on copies of the original CD. When burning CD's, it is very important to keep the tracks in the same order with the same track times. This ensures that the Freedb function will work properly. For more information please visit Freedb.org.



4. What is CD-TEXT?


CD-TEXT is a standard developed by Sony / Philips, which allows album information to be stored directly on the cd such as artist, title, and track list. Many cd-burning programs allow you to make discs with CD-TEXT on them. The main advantage of burning cds with CD-TEXT is that the album information is stored directly on the cd and cannot be lost or deleted. Also, most of the newer car and home stereos will display the song name when CD-TEXT has been added. CD-TEXT can be found on most cds released by Sony Records after 1997. It should be noted that some very old CD-ROM drives do not support CD-TEXT (but this is extremely rare).



5. What is CDPlayer.ini?


CDPlayer.ini is a file that might be on your computer and is used to store album information such as the artist, title, and track list. This file was originally created by a Windows program called CD Player that shipped with Windows 95 and Windows 98. Since then, many other audio programs have adopted this file standard and can read and write to this file. It's possible to find the CDPlayer.ini on any Windows computer (including Windows XP).

AudioLabel cd label software can scan this file, retrieve the album information, and fill out the label for you. AudioLabel does not create the CDPlayer.ini file, it simply reads from it (if present). The CDPlayer.ini file is usually found on your computer under "C:/ Windows/cdplayer.ini" or "C:/ WINNT/cdplayer.ini". It should be noted that this file may not be on your computer at all depending the audio software you have installed on your computer. Many cd-burning programs create and add information to this file.